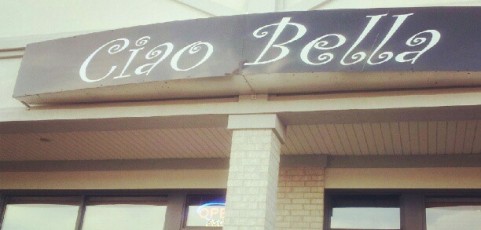 For my 21st birthday, Jen's ma got me a gift card to Ciao Bella on Riverside in Loves Park, and I finally got to use it this Saturday. I'd heard of the place, knew some people that liked it, but never really got around to visiting. I heard it was mainly older folk that went there, and I thought it was more of a diner. This wasn't entirely true, but it did in fact remind me of a diner. There were people bustling all over the place, it was quite loud, there were blinds on the windows like you might find at a Denny's, and other things that didn't remind me of a higher quality dining establishment. It was decorated well enough with pictures of Italy, old photos, and the like but I felt that the overall atmosphere was lacking any sophistication or uniqueness.
We arrived for dinner at I think around 6:30 or so. It was a full house, only a couple spaces in the mall where we could park. We were seated right away, but in the back of the restaurant by the kitchen. I ordered the Chicken Parmesan and Jen ordered the Eggplant Parmesan. We were given bread, oil and parsley, and grated cheese. The bread was hard, and I like soft bread with oil. Maybe some people prefer hard bread, but I find it is harder to eat that way, but I'm glad they gave us something as I was starving. We didn't ask much from the waiter, but it is fair to say he did his job well.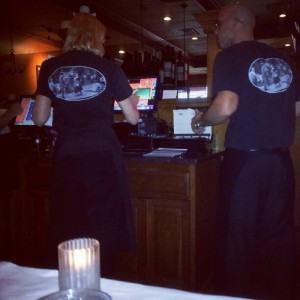 While we waited, we got to watch the employees working there. Not because we were creeping, but because that was all we had to view plus it was quite distracting. Busboys would bump into our table, waitresses would lean on our booth as they waited to enter information into the cash register (which was right across from us, closer to everyone else in the room than we were), and there would be a constant flow of traffic coming to and from the kitchen. I caught a couple of their jokes, stuff they were doing after work, someone was talking about someone who got fired, and other stuff that I do not want to be forced to hear while I'm at a restaurant. It was an unpleasant place to sit, and would suggest that if placed in that booth by the kitchen, which shouldn't be there in the first place, you ask your server to move. We would have if we weren't planning on writing a review of an average unsolicited experience, or if we weren't too lazy to move. This was probably my biggest complaint. I tried to snap a picture of our view, but the picture I got doesn't do the situation justice.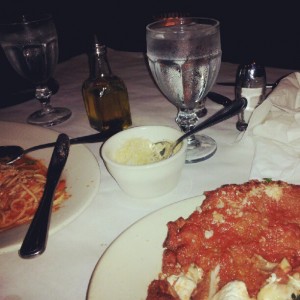 The food arrived just a bit before I'd expect it to come. And the taste was unique. I asked Jen's opinion and Jen's mom, and without even mentioning my own thoughts on the taste they both independently came to the conclusion that it tasted like throw up. The taste was faint, and probably caused by too much acid in the sauce or something, but the fact that all three of us came to this conclusion independently worries me. I was not at all fond of the pasta and red sauce that came with the chicken either, but the chicken itself was fine so long as you can get past the idea of it tasting like throw up. Jen said that her eggplant was pretty good, but agreed that the noodles were sub par. They were watery and had a strange taste to them.
Overall, not great. Between both of us, we spent about $34 with tip included. I probably wouldn't go back unless to give them another review to see if perhaps it was just the busy day that made their restaurant fall far below what I would hope to experience.
Atmosphere: 1 out of 5
Drinks: 3 out of 5
Service: 3 out of 5
Food: 2 out of 5
Price: 3 out of 5
Overall: 2 out of 5