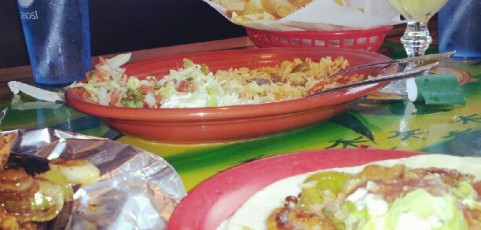 Hello everyone,
This Saturday, on our way to see the Batman movie, Mike and I stopped off at the Fiesta Cancun on E. Riverside in Loves Park.  Our experience there was quite pleasant one.  We were seated almost immediately and a server showed up promptly to take our drink orders.  Being in a hurry, we just ordered a margarita to share.  The margarita, normally $3.99, was on special for $2.99.  We felt this was a very fair price.  The drink was a fine one – but after all, it is difficult to mess up a margarita. Along with our drinks, we were given complimentary chips and salsa to snack on.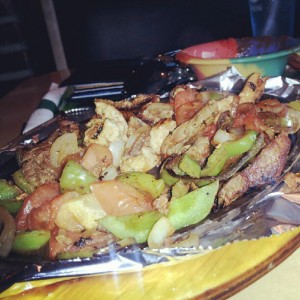 Our food came within about 10 minutes of ordering.  We decided to share the Fiesta Cancun Special Fajitas.  My best friend introduced me to these fajitas recently and I was dying to get them again.  As always, they were superb.  They cost $11.99 for a single order and somewhere around 18.99 for a double order. Don't bother getting the double order, unless you want a lot extra.  The single order is more than enough for 2 people.  These fajitas have shrimp, steak, chicken, and chorizo mixed with peppers and onions.  They also come with sour cream, rice, and guacamole.  If you do plan to share the single order, be sure to order extra tortillas, as you only get 3 with the meal.  Mike and I ate until we were stuffed and we even had enough leftovers to take to my brother.  The total bill was about $16.50 – very good for 2 people.
The atmosphere of Fiesta Cancun is just what you would expect from a family restaurant – nothing exceptional.  The staff is friendly and the brightly colored decor is perhaps supposed to remind one of Mexico?  I have not been to Mexico so I wouldn't know whether the decor does the country justice or not.  One very positive aspect is that the booths are very tall so you and your dinner mates can have a private conversation without being oogled by the other patrons of the restaurant.  Being gawked at by strangers while eating makes me very uncomfortable.
Overall, we felt Fiesta Cancun was somewhere we would definitely return to.  The prices are very reasonable, the service is good, and the food is delectable!
Atmosphere: 3 out of 5
Drinks: 4 out of 5
Service: 5 out of 5
Food: 5 out of 5
Price: 5 out of 5
Overall: 4 out of 5