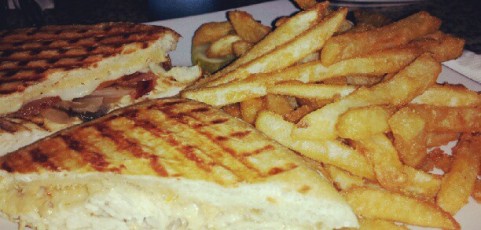 Hello all,
On Sunday night, Mike and I went to the District  to celebrate my best friend's birthday.  It is a restaurant/bar located on W. State in downtown Rockford.  We arrived around 6:30 and the place was nearly dead, as to be expected on a Sunday night I suppose.  We were greeted right away by a friendly server who took our drink orders.  Mike was drinking a draft beer that ran 6 bucks a glass and I a Mimosa that was on special for 3 dollars.  We were displeased that the price of draft beer was so incredibly high.   However, the Mimosa was quite delicious and well-priced.  Needless to say, this is surely not a place to get your drank on unless you are ordering one of the specials.  They also had "Big Ass Beers" for three dollars.  I do not know what is meant by a "big ass beer", nor am I interested in knowing.
The food proved to be more impressive than the beverages.  Mike had the turkey swiss panini, which was mediocre at best.  But, the french fries that he got on the side were heavenly!!  I recommend them to any french fry connoisseur.  I chose the chicken bacon panini, which was most satisfying.  The mashed potatoes that accompanied my sandwich left a lot to be desired.  They were somewhat lumpy and only lukewarm.  Our paninis cost approximately $8.50, which is maybe a bit much for what it is, but not outrageous.  Our friends ordered the spinach artichoke dip, which was overpriced for the amount that they got.  Also, the cheese on the top was a sticky stringy mess.  They essentially had to peel the cheese off of each others fingers to get a bite.  My food came out in a timely manner but they had to wait quite a long time for their mess of spinach dip, which is baffling considering the cook most likely only had to remove it from the freezer, pop it in the microwave, then coat it with sticky cheese.  Our total bill, which consisted of 2 paninis, 3 beers, and a Mimosa, was $39.50.  It should only have been about 2/3 of that for the amount of food/drink that we actually consumed.
The place was quite big, and also empty, being that it was a Sunday night.  This left us feeling a bit isolated at our tiny table.  It was also rather cold in there.  However, we began to enjoy ourselves much more when we went into the back game room.  The room is complete with a foosball table, pool table, a couple arcade type games, and several big comfy chairs.  The foosball costs a dollar to play and the pool is free on Sundays.  It was a great place to sit, chat, drink wildly expensive beer, and play games.  Also, it is worth mentioning that the bathrooms were very clean and sanitary.  I know this is often a complaint of women that the bathrooms are dirty.  My only grievance is that there was no hook in the stall to hang my purse!
Overall, Mike and I felt this was a fine place to go eat and have a few drinks with friends (on special only, of course) , but not somewhere we would frequent.  Oh, and beware of the prices of the drinks that you are ordering because the server seems to have no idea how much they cost and the prices are not listed on the menus!
Atmosphere: 4 out of 5
Drinks: 2 out of 5
Service: 4 out of 5
Food: 3 out of 5
Price: 3 out of 5
Overall: 3 out of 5