Hello Everyone!
It has been awhile since our last post because unfortunately Mike has moved to Chicago for school so we have been unable to go out very often. When we are reunited we will be back in full swing, gorging ourselves like there is no tomorrow.  But here is our opinion of a little place in Cherry Valley.  We hope you find it useful!
Mike and I were feeling like Italian food the other night so we decided to try out Salamone's which is located on South Cherry Street in Cherry Valley.  We were overall very pleased with our experience.  Salamone's is a quaint little place on the corner.  The atmosphere was a step up from a family restaurant.  It would be an acceptable place to take a date, but you could also bring your family, little children included.
The service at Salamone's was phenomenal.  Our server was extremely attentive and polite, and I'm not just saying that because she told me I was lovely 😉 (perhaps it has a LITTLE bit to do with it.) We never had to wait longer than a couple minutes for her to come when we needed something.  Also, the food and drinks that we ordered did not take too long to be delivered to us.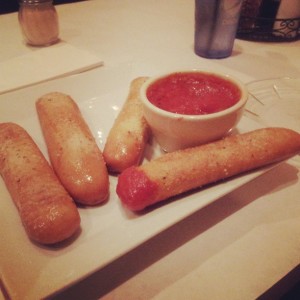 The food was excellent, as well.  To start, we ordered the cheese filled breadsticks with marinara sauce. They cost approximately $7 They were crispy and flavorful and delicious!  As a main course we decided to share the meatball calzone.  It was ginormous and more than enough for us to share. It cost about $8.50, which we felt was a fair price considering it was so large.  We both enjoyed the calzone very much.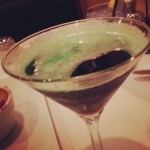 As for drinks, we were not quite as impressed.  Mike ordered just a coke at about $2, which is standard, plus it had free refills. Free refills are fantastic for Mike because he drinks like a camel.
But I ordered a melon ball martini and I was not overly pleased with it.  It was much more syrupy than it had to be and it seemed warmer than room temperature. It reminded me of some drink from my childhood, which is alarming considering it supposedly contained alcohol.   It cost about 6 bucks, which is a standard price but I felt that it should have been a bit cheaper at a family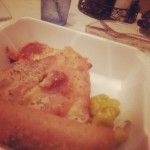 Overall, Mike and I enjoyed Salamone's and we would definitely go back.  The food was lovely, the service was awesome, but do try to steer clear of those melon ball martinis :/
Atmosphere: 4 out of 5
Drinks: 3 out of 5
Service: 5 out of 5
Food: 5 out of 5
Price: 5 out of 5
Overall: 4 out of 5