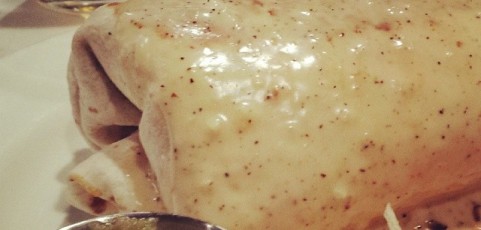 Last night Mike and I went on what will probably be our last dinner date before baby is here!  We tried Lucha Cantina, located at Edgebrook center on N. Alpine.
Lucha Cantina is one of those places that boasts of fresh, organic vegetables, grass fed beef,  gluten-free options, etc.  So if you are into that this is definitely a place to look into.  The atmosphere of Lucha was pleasant enough, although it bore slight resemblance to the inside of a dentist's office.  There was a cozy looking patio, but it was a bit too cold when we went to venture out there, but we will certainly be sitting outside next time we go.  The bar was nice, as well.  It wasn't too loud and seemed to be a place you could carry on a nice conversation with friends without shouting over obnoxious music.  I don't know if I'm just a people hater, but I was yet again perturbed by our waiter.  He talked an immense amount and I grew tired of looking at him while he was speaking but I felt it rude to look away.  It's safe to say he knocked a couple points off of our overall experience.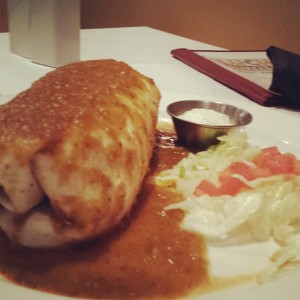 The cuisine was unique – a mix of Mexican and American.  Mike and I both decided to try one of the several burrito choices.  I got the Hippy (being a spelling Nazi, I was bothered that it was not spelled "hippie" as I believe it should be.)  The Hippy is a veggie burrito containing rice, hummus, cheeses, beans, etc, smothered with Verde sauce on the outside.  It was decent enough – although I would not order it again. But that's most likely my fault for attempting to be healthy.  Mike made the better choice.  He went with the BBQ burrito – a burrito containing BBQ pork, cole slaw, onions, and cheeses and smothered in Queso.  Quite good, but could still have been better, we both concluded.  Other menu items included quesadillas,tacos,  sandwiches, burgers, interesting mac n cheeses,  and various appetizers.  All of the combinations seemed unique and there were several things I would like to sample in the future.  As for drinks, there were many beer choices on tap, more than your average restaurant I would say.  The margarita seemed to be the specialty, and there were several margaritas to choose from.
Price was fairly standard for a restaurant of this caliber.  Mine and Mike's burritos were 10 and 11 dollars, respectively.  His beer was $4.50, which was a Greenline, one of the beers they offer on tap.  Burgers and sandwiches seemed to fall between 10 and 12 dollars, as well.
Overall, we enjoyed Lucha Cantina, but were not enthralled with it.  We will be going back to give it another try.  Hopefully it will redeem itself on our next visit!
Atmosphere: 2.5 out of 5
Service: 4 out of 5
Food: 2.5 out of 5
Price: 3.5 out of 5
Overall: 3 out of 5